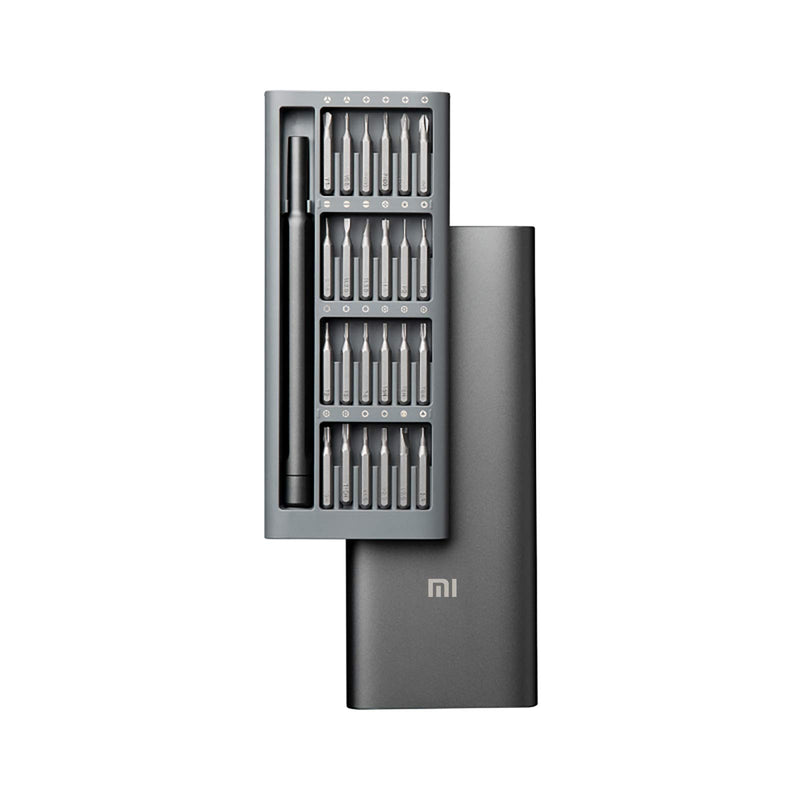 Xiaomi Mi Precision Screwdriver Kit
Aluminium Alloy Storage Box
High precision integrated molding process and smooth arc edge
Sandblasted surface anodes treatment, anti-sweat and anti-corrosion
Aluminium Alloy Handle
Turncap design
Imported S2 Steel
Official Australian Version
Xiaomi Mi Precision Screwdriver Kit
Please note: This is not the WIHA model. WIHA model is no longer produced.
Mi Precision Screwdriver Kit
Optimised, minimalist design for all of your everyday
needs
24 high-quality precision bits | Comfortable, non-slip handle
Aluminium alloy case | Magnetic storage container
24 precision bits Perfect for most everyday tasks
Disassemble and repair a wide range of electronics, household appliances and common household items with 10 types of precision drill bit,
24 individual precision bits in total.
Precision bit models updated to suit today's commonly used products Increased usability
Precision bits have been adjusted in order to meet the requirements of mainstream electronics on the market. The updated precision bits have increased usability and can be more easily used to disassemble and repair commonly used electronics.
S2 alloy steel precision bits
Precise, durable
High-quality S2 alloy steel precision bits are durable and tough,
with a hardness of up to 60 HRC*. The double surface finish* is
rust-proof and ensures high precision engagement with screw
heads, to minimise damage to screws.
*Double surface finish refers to one sand-blasting treatment
and one zinc-phosphate coating.
Faceted aluminium alloy handleComfortable and e

asy to us

e
The tri-faceted aluminium alloy is ergonomically designed for your hand, making it comfortable and easy to use. The anodised surface is smooth and non-slip. Comfortable single-hand use with the specially designed rotating cap.
Easily transportable thanks to
compact, lightweight design
The thin, lightweight case is less than 70 mm wide. Use
it whenever and wherever you like.
The one-piece aluminium case fits easily and comfortably in
your hand
The aluminium alloy case has smooth, seamless edges, making it comfortable and easy to hold.
The anodised and sand-blasted surface is anti-sweat, non-slip and anti-rust.
Storage container features an innovative, push-to-release mechanism
Lightweight and easy to open
More compact design, with a simple push-to-release storage container. Quick and easy access at a single touch.
Magnetic storage container
Switching bits is a breeze
The secure, magnetic storage container makes it
easy to access and return precision bits.
*Hardness varies by ±2 HRC. Precision bits hardness tests were conducted by the National Quality Supervision and Inspection Center for Lighting Fitting, Shanghai. Report No.: G20191562.
*Unless otherwise indicated, all data referred to on this page is from the HOTO Laboratory. Data may vary or be inaccurate due to differences in the objective environment and other factors.
*Rest assured when purchasing the "Mi Precision Screwdriver Kit", previously the "Mi Wiha Screwdriver Set". Aside from three of the original precision bits (PH2/SL4.O/TR15), which have been replaced (TR9/Y0.6/W1.5), all other components and materials remain unchanged. Performs just as well as the original product.